Students naturally seek a rich and enjoyable student life. Students' clubs facilitate cohesion by organizing regular activities at ICES.
Within the institution, you can also participate in events or attend lectures on various topics. The unions also use the city's infrastructures (bars, restaurants, parks, haras, etc.) as a setting for their ambitious projects.
Multiple activities
The unions ensure life and meetings at ICES. Intellectual discussions, cultural discoveries, cohesion activities... you are free to choose among the activities organized by the unions! It is also an opportunity to meet new people and to satisfy your curiosity.
ICES has about thirty students' unions, corporate, sports, charitable...  Here is a brief presentation. You can find more information on the official ICES website.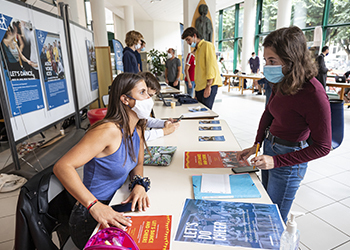 BDE: Students Union (
Bureau des Étudiants)
The Students Union is run by elected students. The president of the BDE sits on the ICES council to make the students' voice heard during the major bi-annual decisions of the institution.
The BDE also animates student life by:
harmonizing the actions, projects and events of ICES;

organizing festive, cultural and solidarity activities;

committing itself to making student life ever richer and more pleasant.
You can get involved or support its actions by joining one of the many BDE sections. Find out more by visiting BDE's Instagram!
GLOBO
Globo is the international club that welcomes and supports the foreign students. It will be the one you can rely on throughout your stay at ICES. For more information, please visit the dedicated page : Buddy Programs.
Pastoral Care: ICHTUS
Students can also nurture and develop their faith through the activities of the ICES chaplaincy. The different activities and weekly meetings lead them to open their vision of the world and to seek the truth even more. Find out more on ICHTUS facebook page.