To study abroad may mean to be confronted with a new language, another culture, a new way of life, and therefore to leave your "comfort zone". It is therefore essential to prepare well for your stay and to anticipate all practical questions in order to avoid unpleasant surprises upon arrival.
Accomodation
One of the major questions is that of accommodation.
There are three possibilities when you come to live in La Roche-sur-Yon: a room in a residence (off campus), a host family, or an individual apartment.
Whichever option you choose, it is important that you feel "at home", and therefore that you choose the type of accommodation that best suits your expectations and personality.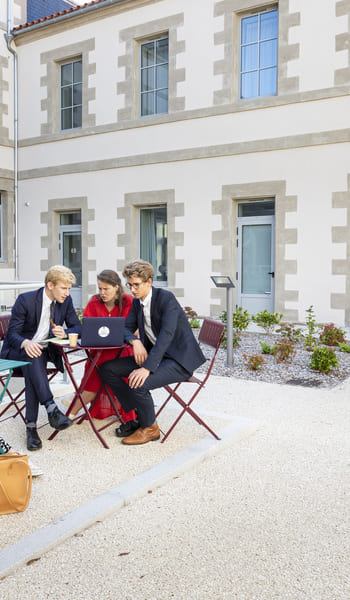 Visa & Insurance
Another important matter is the visa. Depending on your nationality, you may need a visa to study in France. As soon as you receive your confirmation of admission to ICES, you must make an appointment with the French Consulate closest to you in order to begin the immigration process.
Last but not least, the insurance issue. We would like to draw your attention to the need to take out travel insurance in your country of residence that includes hospitalization and medical repatriation.
In addition to this private insurance, European nationals must have a European Health Insurance Card, which will allow them to receive medical care in France. Quebec nationals must be in possession of the SE401-Q102 or Q106 form.
Finally, once you arrive in France, you will have to take out housing insurance to cover you in case of damage (water damage, fire, etc.).
The ICES international relations office can help you with this last point.
Academic Calendar
Have you received your confirmation of admission for a semester or an academic year at ICES?
You are now ready to fly!
Located 3 hours from Paris and 1 hour from Nantes (by train), the city of La Roche-sur-Yon is ideally situated and will be the ideal starting point for visiting other French cities and regions during your study semester in France